I want to try to build an exhaust with this "spaghetti" exhaust which is originally meant for a beetle engine:

Here is a mock-up under the car: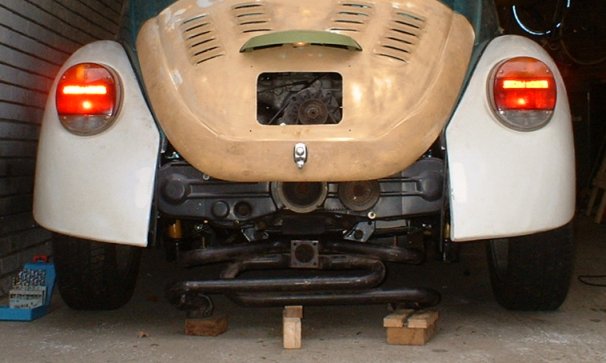 It's obvious the lower pipes have to go, but that's not a real big problem as the exhaust ports of the Alfa engine are at the bottom of the engine instead off on the sides like with the beetle engine. Because of that I don't need the lower pipes. The lower pipes are there to make all the pipes in the beetle engine layout the same length. Where the 4 pipes meet, the upper two pipes must be connected to the rear exhaust ports, and the lower ones to the front exhaust ports. It's time to buy a welder and learn how to weld…
---
edit 11-02-2007:I ordered a welder, but haven't got it yet. I allready started on cutting up the standard Alfa exhaust manifolds I have. I've got two: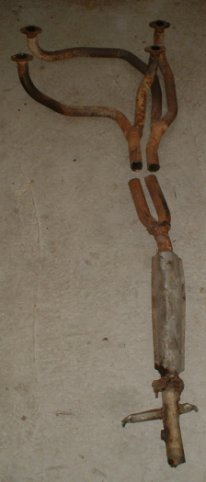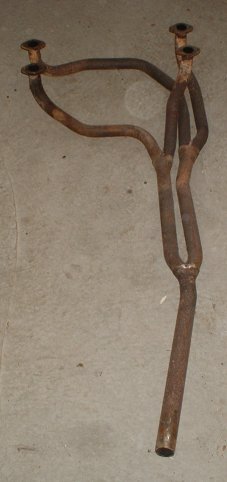 The left one came with the engine, the right one I bought additionally.
I cut up the left manifold, and I cut two pipes from the VW beetle spaghetti exhaust. This is, roughly, my plan: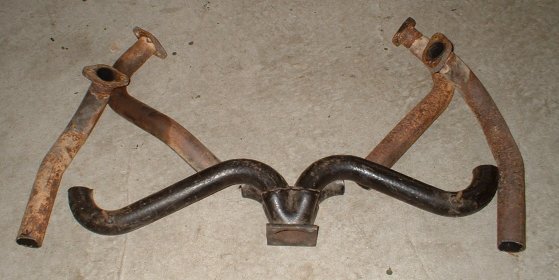 The front two cylinders will go directly to the two cut-off pipes of the spaghetti exhaust. The two rear cylinders will go the the long pipes of the spaghetti exhaust. The pieces of the Alfa manifold will have to be cut up to make them reach the spaghetti exhaust. I might even have to cut up the other Alfa manifold too.
---
edit 18-02-2007: Yesterday I was talking to my neighbour about this project. I told him the only thing left to do was the exhaust. That reminded him of this motorcycle silencer he had lying around in his garage… It came from a Suzuki 750 cc (he thought) race bike. He said that I could have it if I mounted it on the beetle! Here it is:

It's good to have nice neighbours… 🙂 It's a nice alumium silencer with a very big diameter port on the intake side. I will have to make a triangular plate to weld the exhaust pipe on to it.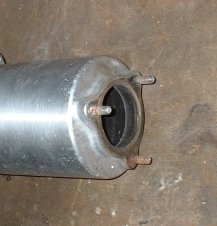 I want to hang it under the rear apron pointing to the left and a little downwards.