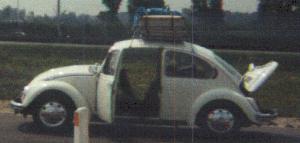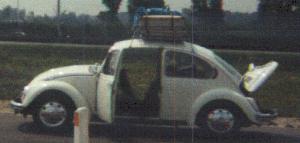 Well, this is all history… but me and my brother had a white ("Pastel Weiss", L90 D) 1300 standard beetle. Because the license-plate began with "00-9.." we called it 009 (licensed to rust?). We drove it standard for about 4 years before taking it apart.
Then we reassembled it with a lowered front beam, 2 sport-seats and a sporty exhaust. We didn't have enough money to restore it to a show-room condition so the body still looks rusty and the interior looks very, very, very used (also due to a fire that broke out in the car while welding on it….). But the floorpan is solid and we replaced the 2 heater-channels so it is a relatively strong car again.
Read and watch:
We only had to change the left headlight and 2 dust-caps at the ball-joints to get it through the safety-inspection (APK in Holland).
This car is now gone. The body was so bad I just scrapped it. The new floorpan and the old floorpan are sold. At first I wanted to do something with the old floorpan, but I am to busy with my super beetle.