This website is all about my 1973 Volkswagen 1303 S (in US: Super) beetle.I like doing modifications to it. My goal is not to make it the fastest beetle in the world, but my aim is only to make it more driveable and low on maintenance. The modifications must make the car more fun to drive.
(filmed during a holiday in "das Bergisches Land", a region in Germany)
---
Looking for my Raspberry Pi page? See:

Youtube channel

Facebook page
(not really active)
---
One of my modifications is a roof/rear window spoiler. It turned out, more people liked this spoiler, and asked me to create one for them to. So I am now producing and selling this spoiler: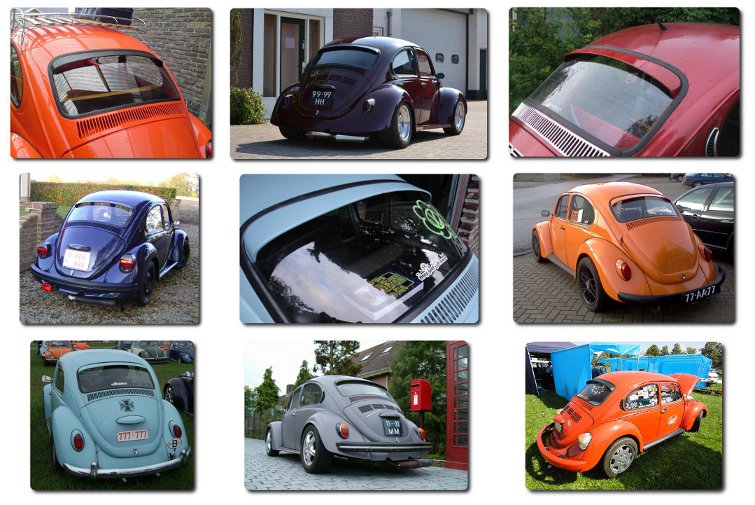 ---
See the menu on the left. There you can navigate to the pages where I describe the switch to an Alfa Romeo engine, and some miscellaneous modifications like LED lights, rear anti-rollbar etc. The modifications not (yet) documented are:
glassfiber standard width fenders

glassfiber front decklid, original shape

glassfiber rear decklid with louvres

one piece windows

Volkswagen Polo front seats

3 point safety belts in the front and in the back

electronic rear pop-out window

temperature and volt gauge

thicker front swaybar

front strut tower brace

lowered aprox. 4 cm in the front, and aprox 1 cm in the back

ATS alloy wheels
Furthermore you can find some VW beetle related documents in the menu on the right, which you may find interesting. And there is something about my VW beetle history.
My beetle was also used in a dutch television program, Blik Op De Weg. See: Youtube link to episode .