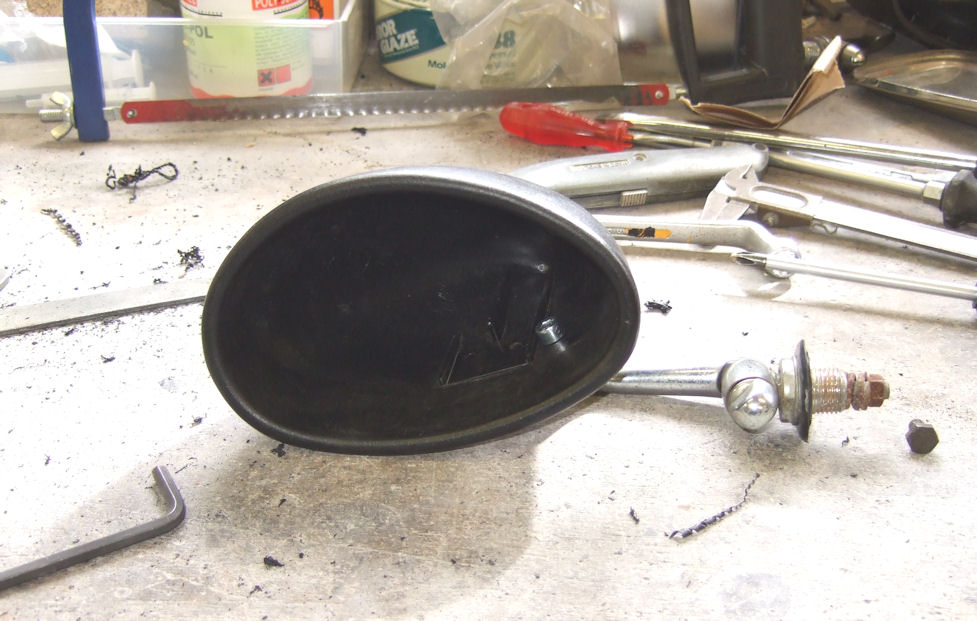 I would still like to reduce the wind noise even further. The rain gutter fillers help a lot already, but I want to go further. At 140 you still hear quite a bit of wind noise. Now, I don't really like the standard mirror. Yes, it works very good, but it's looks are not very pleasing. The flat square thing is a bit out of harmony with the round beetle.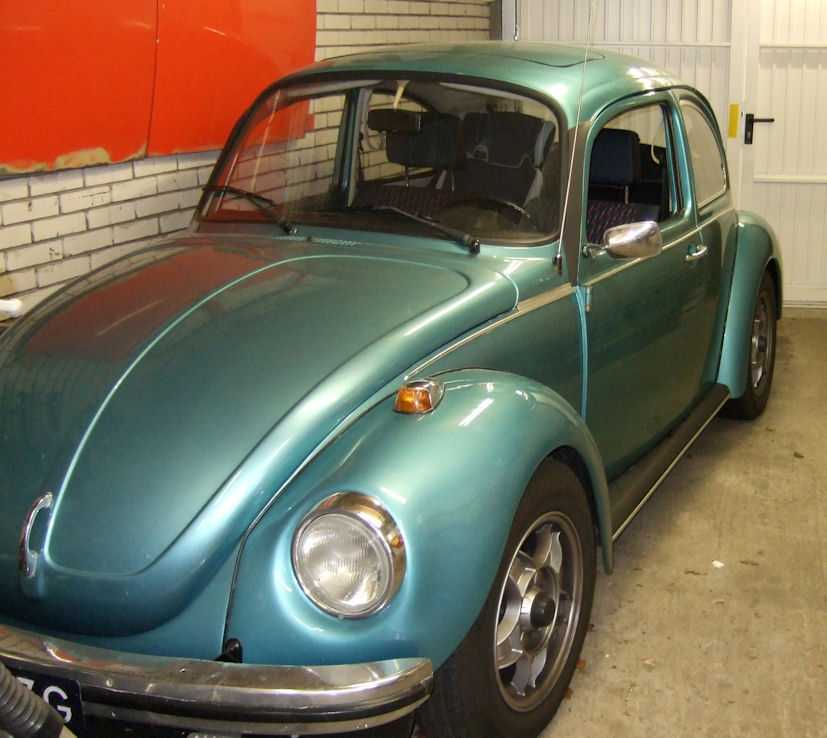 I looked for another mirror. I've looked at mirrors of different car brands, hoping a mirror of a modern car could be made to work. But most mirrors have a thick base, or just do not fit in beetle. I also have looked at many aftermarket mirrors. And I really liked the Vitaloni California mirrors. But… I read on the Internet that's they are not ver functional, and (more importantly) you have to drill holes in your door to mount them. I don't like that. This is a common problem with practically all aftermarket mirrors. But perhaps this can be solved by modifying it so it can be mounted to a standard mirror base. Then the mirror might stick out further, so they become more usefull.
I found a set of Vitaloni California mirrors on a local online market place, for  only 15 euros! That was perfect. When I got them home I found out that someone had heated the base of the mirros and bend them (they were mounted on a Mercedes or something before I got them):

(see the twisted bases?)
But that did not matter, because I wanted to take the base off and attach them to a standard beetle mirror base. So I had to take the mirrors apart: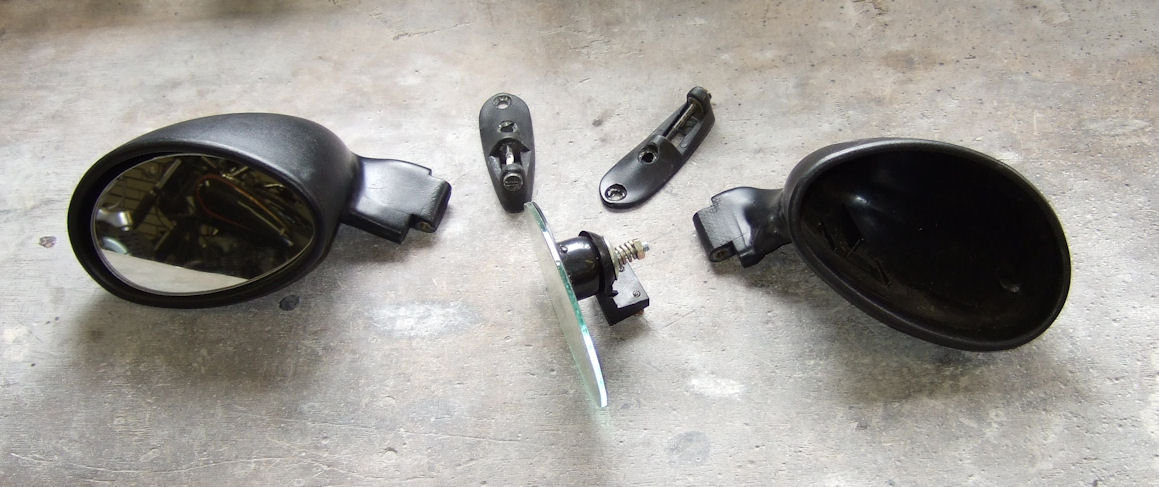 And then I cut off the base and smoothed it a bit with a file: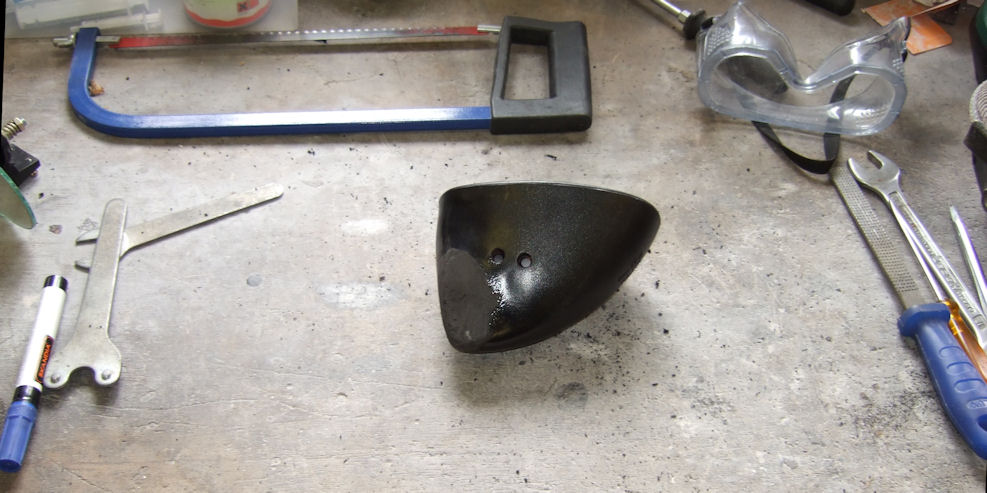 (this is the passengers side mirror, I did that one first because I don't need it directly)
Then I took an old standard mirror apart and this is what I found behind the glas: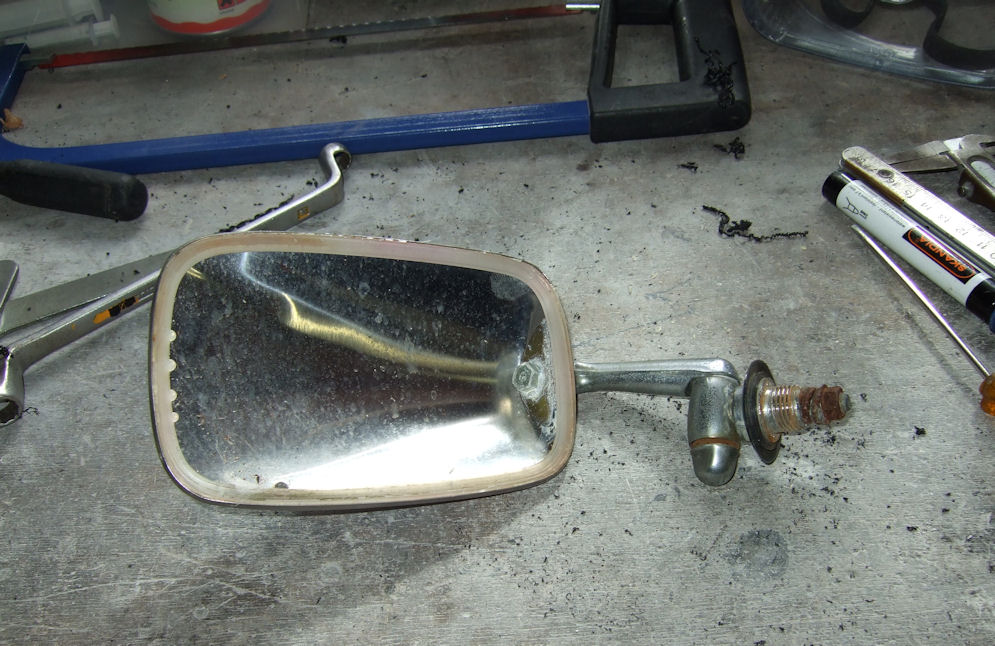 A bolt! That's nice, I can just unbolt it: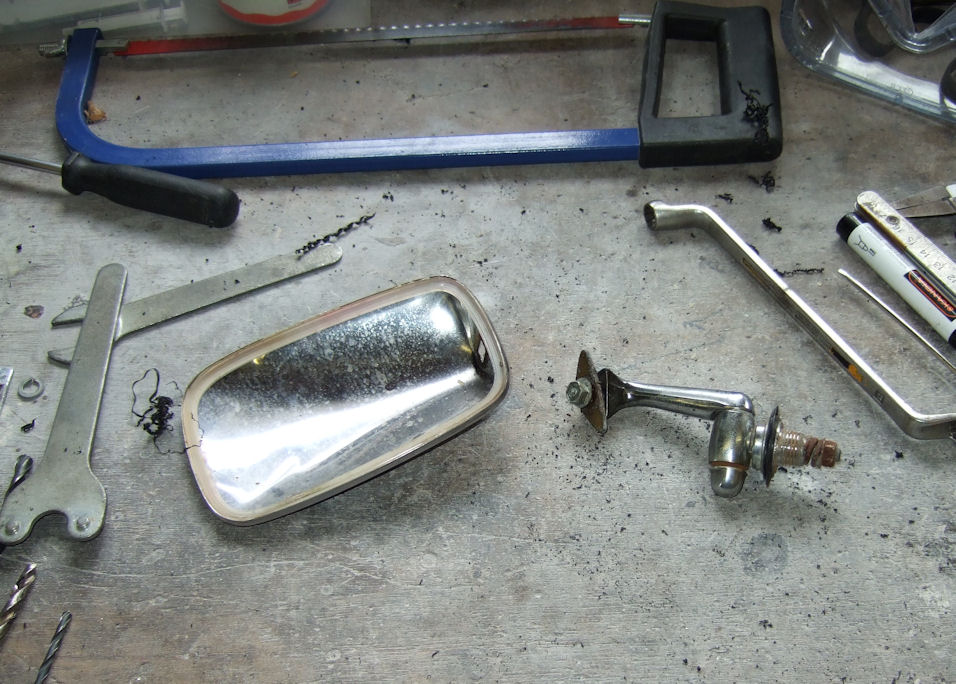 I can use the bolt to attach the vitaloni mirror to the standard stalk: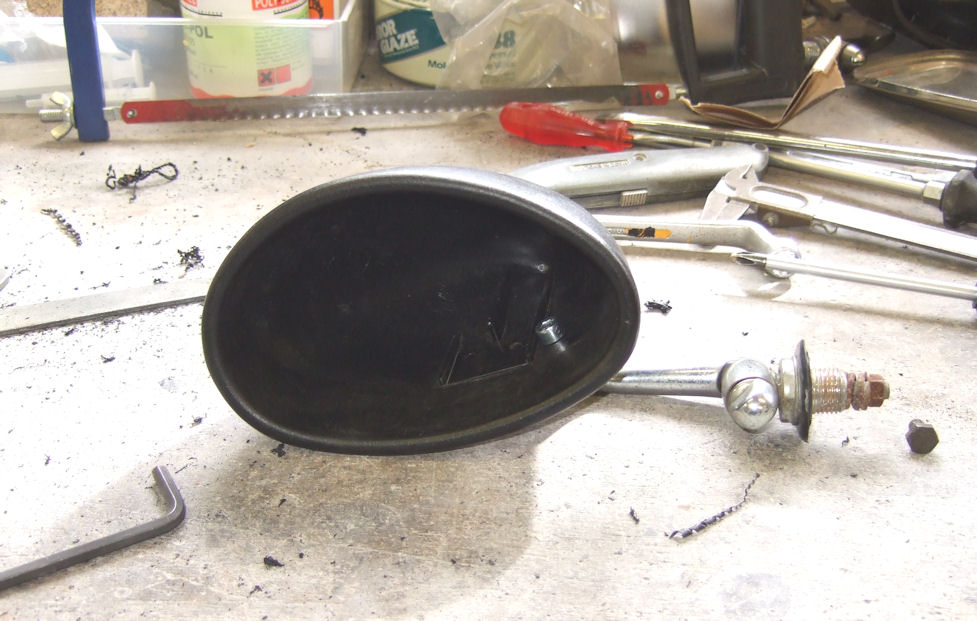 Fits perfectly! I thought I had to create (weld) a special bracket to attach the vitaloni, but that is not necessary. I only had to turn the beetle stalk 90 degrees forward, instead of pointing up, it's pointing forward.
After this I test-mounted it on the car, to determine the correct position. The part that the bolt bolts into has a square bevel. I filed the same square in the vitaloni mirror, that way the mirror can't move. I bolted it all back together, and it was allready done!: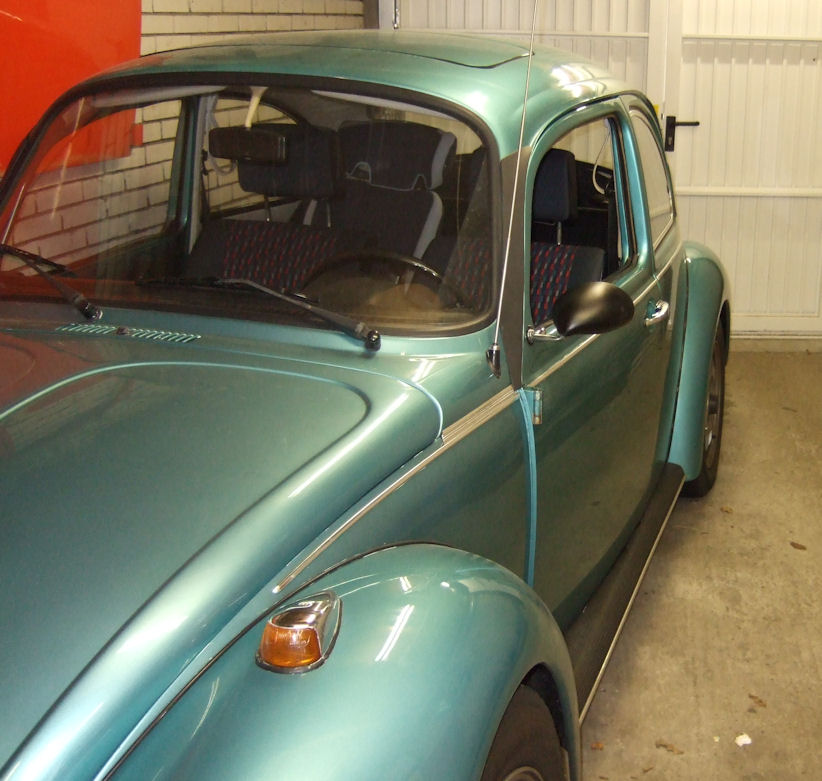 The part where I sawed off the vitaloni bae is not even visible, so I do not even have to spray paint the mirror.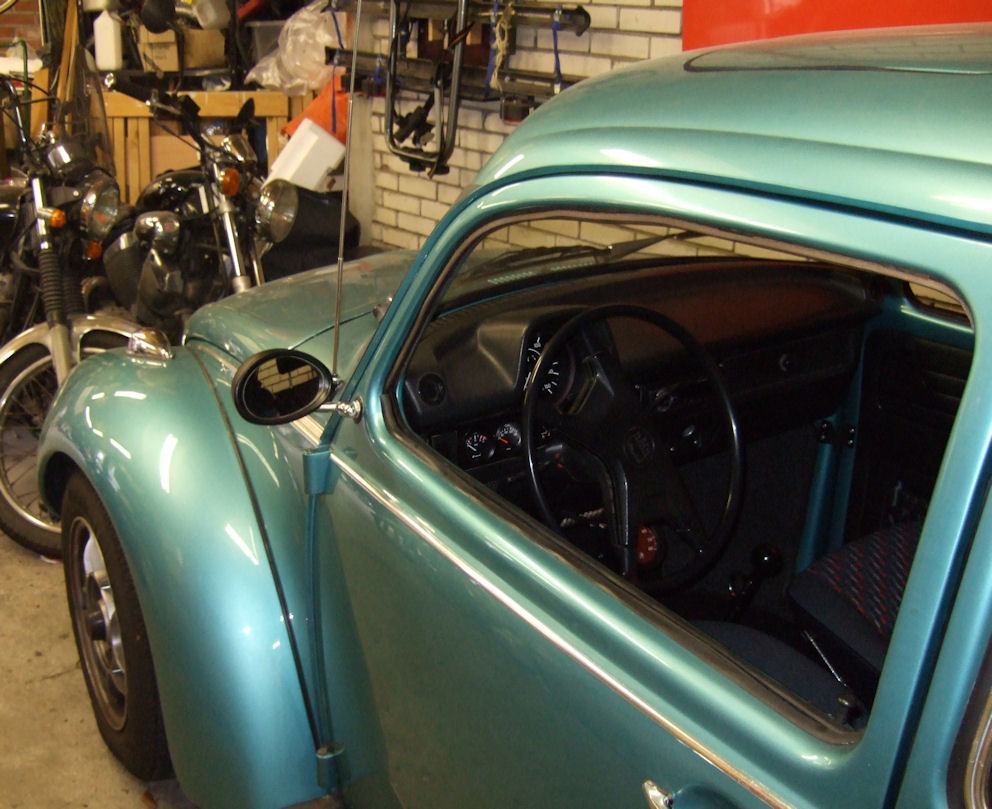 This was all much easier than I thought. 
After some test-drives, I can conclude: Allthough it is smaller and has less vision then the standard mirror, it's still a usefull mirror. And the windnoise has decreased a little too. I am happy with it.