The wiring for the fans is also done. I connected the positive side of the battery to two fuses in the fuse block I have under the back seat.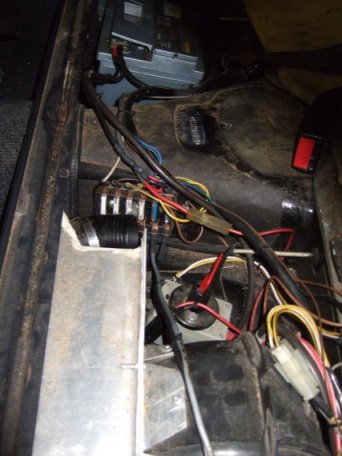 The two blue fuses on the right are the 25 amp fuses for the two fans. From the fuse block two thick wires run along the heater channel to the front.
In the front I've hidden away two relays, under the strut brace. From the relays three wires run trough a rubber grommet into the radiator housing. Two wires have the positive side for the fans, and one (blue) wire is connected to the temperature switch on the radiator.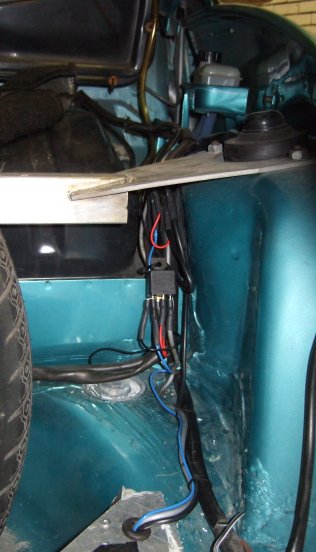 The fans and temperature switch are grounded to the other bolt of the tunnel cover plate.
I contemplated on placing the temperature switch in the back. But that meant I would have to weld a nut into the coolant pipes. I can't get a nut with the threading of the temperature switch, and a M22 nut is very wide. This would be difficult to weld into a 32 mm pipe.
Placing it in the back would be better as the pipe from front to back will cause the coolant to cool. This could mean the temperature in the engine might be higher than in the radiator at the temp switch.
But, the fans should only come on in traffic jams or slow driving. Which again would mean there wouldn't be much airflow around the pipes. In that situation the pipes wouldn't cause a major temperature drop.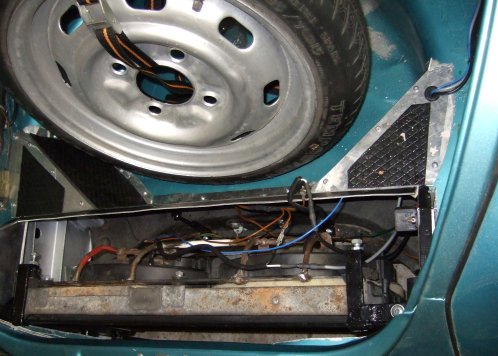 The wiring is still a mess around the fans, but that's because the fan-frame still has to be painted. Once it's painted the wires will be attached to the frame with tie-wraps, so they won't dangle around.
---
edit 02-05-2008:The fan-frame is painted and installed: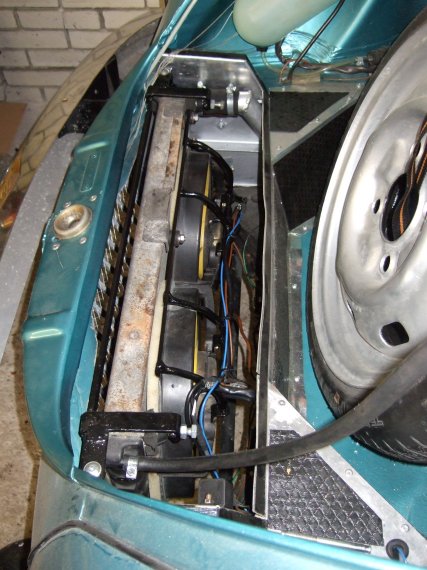 And the wiring is tied to the frame.
The front radiator is installed!